Stop Bed Bugs From Invading Your Knoxville Home
When it comes to pest infestations in Knoxville, West Knoxville, Lenoir City, Loudon, and surrounding areas, bed bugs might not be one of the most dangerous, but they are certainly one of the most stressful. Bed bugs won't cause significant damage to your Knoxville house, and they aren't known to spread diseases, but they are not harmless. They bite, usually, while you're sleeping, they can grow from one or two pests to a large population in a relatively short period, and they are difficult to fully eradicate.
If you've been waking up with bug bites, have noticed red dots or tannish brown streaks on your sheets, or have seen little apple seed-sized bugs, you probably have a bed bug infestation. Trying to get rid of it on your own is likely to be unsuccessful because bed bugs are resistant to many treatments and are very good at hiding for several months at a time. Instead, contact the professionals at Dead End Exterminating. We offer bed bug control services that will get rid of your bed bug problem.
Bed Bug Control From Dead End Exterminating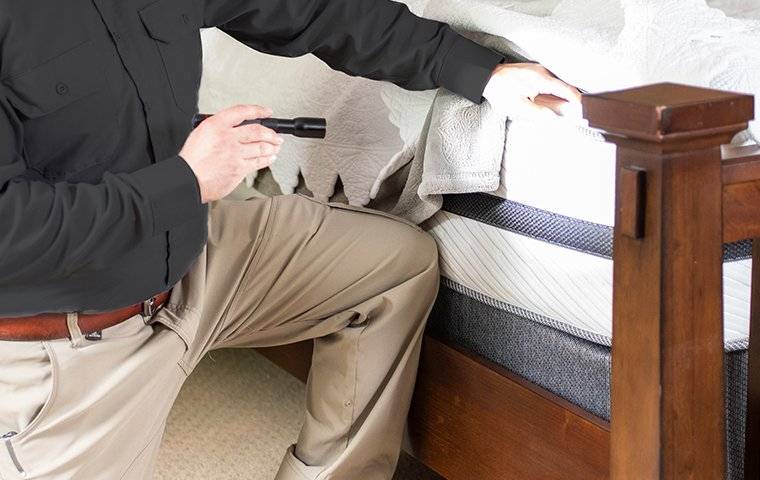 Inspection
We'll perform a full inspection of all areas that tend to be problematic when it comes to bed bugs, including beds, mattresses, bedding, couches, chairs, resting areas, and more. We'll look for any signs of bed bugs. This inspection allows us to make sure that the pests in your house are truly bed bugs and helps us determine how widespread the infestation is, which enables us to better target our treatments.
Treatment
Your initial treatment begins with a liquid application to affected areas. We'll also install mattress encasements. These protect your mattresses from bed bugs that might want to get into them while also eliminating any bed bugs that remain on your mattress. You'll need to vacate your home for four hours during our bed bug treatment.
Follow Up
We provide follow-up treatments for our bed bug control service as needed, meaning we'll return as many times as necessary until we completely eliminate the infestation, which typically only takes one or two follow-up services.
A Restful Night's Sleep Starts With Dead End Exterminating
If bed bugs have gotten into your house, you're probably spending most of your nights awake and feeling itchy. Get back to sleep with help from Dead End Exterminating. Our experts will treat your home with the care and knowledge necessary to get rid of every last bed bug in your house. Contact us today to request your bed bug inspection.
Learn more about our home pest control and commercial pest management options.
Request Your Free Inspection
Complete the form below to schedule your no obligation inspection.