Every homeowner finds out about termites eventually. Whether through horror stories told by friends or from a negative personal experience. To help you avoid negative experiences with these wood-destroying pests, you must know how to identify problems around your property. To help you know termites are destroying your home, keep your eyes open for these four easy-to-spot signs around your Knoxville property.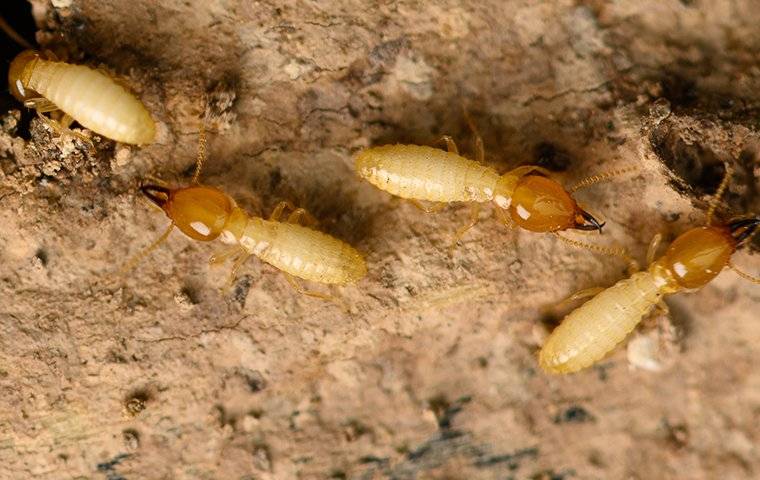 1. Mud Tubes Crawling Up Your Home's Exterior Foundation
Subterranean termites, the most common termite species in our area, need constant moisture to survive and only stay underground and deep inside wood structures. They also need to build mud tubes when climbing the outside walls of homes to cross gaps between exterior soil and structural wood. These mud tubes are one-quarter to one inch wide and sometimes branch off as they climb upwards.
2. Pin-Sized Holes Running In And Out Of Structural Wood
As termites tunnel through wood, they create tiny pin-sized holes for ventilation purposes. How noticeable these holes are depend on which species of termite is making them. Drywood termite holes are more apparent as they usually have frass (termite droppings) clinging to the wall around them or on the floor directly beneath. Subterranean termite holes do not have frass and are therefore less noticeable.
3. Moisture Damage
The most noticeable and concerning sign of a termite infestation is moisture damage which appears around homes in various ways. Here are just a few ways termites might damage your property with moisture.
Discoloration on floors, ceilings, and walls

Tight-fitting doors and windows

Bubbling or tearing wallpaper and or paint

Sagging drywall

Overly squeaky floorboards
4. Termite Swarmers
There is only one time you will see live termites without breaking apart the piece of wood they are infesting, and that is during swarming season. Swarming is when fully mature colonies of termites produce flying reproductive members and disperse them to establish new colonies. You can identify swarmers around your home by their white, ant-like bodies and long, oval-shaped wings.
Why You Don't Want Termites Destroying Your Home
There are many reasons you don't want termites destroying your home, but there is one that beats out the rest. Homeowners' insurance does not cover the damage done by these pests. You heard us right. If you end up with termite damage, you will have to cover the entire cost of repairs, which can mean thousands of dollars out of your own pocket. Insurance companies classify termite damage as a preventable disaster. Keeping this in mind, here is how to keep these pests out of your home.
The Only Way To Handle Termites
When it comes to spotting signs of a termite infestation in West Knoxville, TN, there is one problem. Almost all signs become more noticeable the worse the damage becomes. For this reason, you must address termite problems before they occur. One way to do this effectively is by hiring the experts at Dead End Exterminating. Our team of dedicated professionals uses the Sentricon System with Always Active ™ to eliminate termites before they can cause damage to properties in our area. This process is proven to be the absolute best way to handle termites anywhere.
Give our team a call today if you have any questions about termites and schedule a time to have your home thoroughly inspected for these pests. We will send one of our friendly technicians your way ASAP with a solution to your pest problems.
Learn more about our home pest control and commercial pest management solutions.