It's that season again. The weather outside is getting colder, and many non-house pests are going to start invading homes. One insect that regularly gets inside during this season is the ladybug. This invasive and colorful beetle is pretty to look at but annoying to find crawling or buzzing around indoors. The question is, are they just annoying, or are they dangerous as well? Here is everything you should know about ladybugs in Knoxville and what to do about them when they get inside.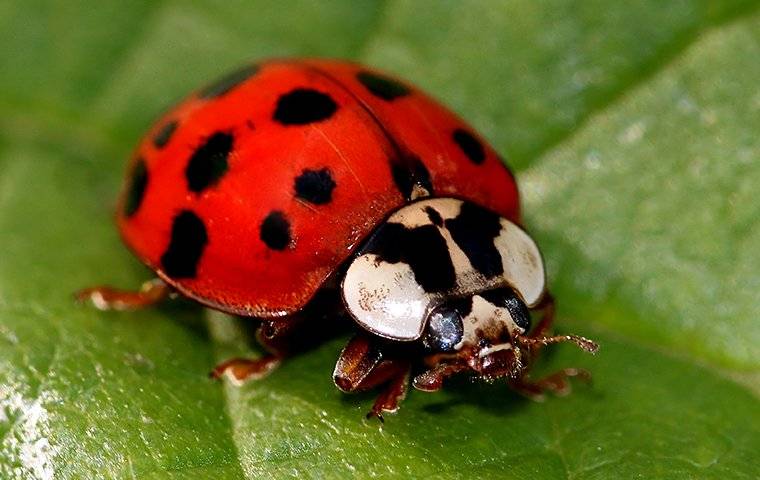 Why Ladybugs Invade
Ladybugs can invade homes during any time of the year; however, their reason for invading changes depending on the season. If you find a ladybug indoors during the mid-summer months, chances are they wandered inside and are actively looking for a way out. This is because your home provides no source of steady food for them to live on. You see, ladybugs eat plant-eating insects like aphids. In fact, they are considered beneficial insects in most crops because of this.
If a ladybug invades your home in the fall or winter months, they are doing so to hibernate. Like hollow trees and the underside of rocks, your home provides these insects with a good amount of shelter from the cold temperatures outdoors. If ladybugs choose your home as their hibernation spot, you may notice them crawling or flying around from time to time.
How Ladybugs Get Inside
There are many ways that ladybugs find their way into homes. Mostly these pests fly in through open windows and doors. They might also get inside through damaged screening, under unprotected doors, and through foundational gaps and cracks. Sometimes people will carry these pests indoors on their clothing or inside storage boxes.
Are Ladybugs Dangerous?
Despite being a nuisance inside area homes, ladybugs are not harmful in any way to humans. They do not bite, spread diseases, or possess any form of venom. However, these small insects are toxic and a threat to birds and other smaller creatures when ingested. Although not dangerous, ladybugs are a bit destructive. These pests release a noxious odor and a yellowish fluid that stains fabrics like carpets, furniture, and drapes when crushed.
Some Helpful Tips & Tricks To Prevent Ladybugs
If you don't want ladybugs to invade your home this fall and winter, now is your time to take action. Here are three exclusion tips our experts recommend you put to good use around your home:
1. Buy some silicone caulk and a caulking gun. Use these tools to seal off gaps, holes, and cracks in your home's exterior foundation and spacing around utility piping and wires.

2. Thoroughly inspect your home's windows and doors to ensure their weatherstripping and door sweeps are in good condition.

3. Keep unscreened windows and doors around your home closed, and make sure all of your screens are installed properly and in good condition.
The Best Tip For Ladybug Control
At Dead End Exterminating, we are all about protecting our community from invasive over-wintering pests. If you want your living areas to be pest-free this fall and winter, let us help you out. We will inspect your home for existing pest problems, handle any we find, and then establish a lasting defensive perimeter around your home.
Our team only uses advanced pest control strategies and industrial-grade products and treatments to ensure our clients are well cared for. Reach out today to discover how our team can help you protect your Knoxville home and property from ladybugs and other overwintering pests. We also offer commercial pest management for local businesses.